… a time to kick back, relax, and take some time away from a busy schedule for fun activities. Right?
Well, that may be summer's reputation, but when I've talked with friends and family it doesn't seem that many people have found that to be the case in practice. Oh, it's not that they haven't had fun – and there have certainly been plenty of fun activities – but in many cases summer actually seems to prove even crazier, and sometimes more stressful, than the cooler months.
That's certainly been the case for me this year. There have been a lot of fun things (including several trips), fun things that were also a lot of work (such as getting a new puppy, and working on art commissions), and it's also been one of the busiest summers for editing work that I've ever had. Lots to be thankful for!
In between it all, I've been working on a fair amount of writing. Among other things, I finished up an ebook and got it edited, and entered the Fantastic Books International Short Story Competition.
I also wrote an article for Molly Green Magazine (from Econobusters), about the other business that my sister and I run, Gilded Gears Jewelry. In addition to talking about how we got started, I shared some advice (geared particularly toward kids and teens) on starting home businesses. The article will be appearing in their September issue, which should come out around the 1st, and there'll be a drawing for this necklace on their site at the same time: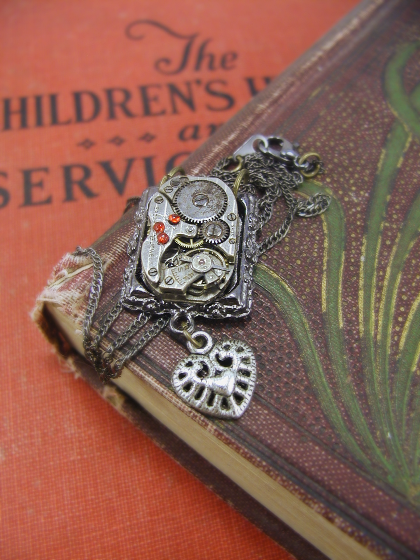 So if you like jewelry (or know someone who does), you might want to check it out!
And just as exciting – this last week the St. Cloud Times ran an article on my sister and me. The interview was primarily regarding Gilded Gears, but we talked some about our other businesses as well – and yes, NAIWE got a mention. You can read the full article here. There are a few factual errors that some who know us might catch (for instance, the picture that ran with the article was credited to our mother rather than my sister, and the magazine article was written by me rather than our sister), but it was a great opportunity.
So it's been a good summer. But where others are sighing about summer being over "already," I must admit that I'm looking forward to fall. The steadier schedule will be a nice break from all the excitement!